...came about as a result of having purchased one "pedigreed" siamese kitten for $50.00 from a newspaper ad back in 1982. Because, back then, $50.00 was a lot to a 19 year old girl, I took that little kitten to a TICA show in Calgary Alberta quite convinced that I would win all the awards. My little apple head girl was promptly moved to the "household" pet section, and then she actually did win lots of ribbons. I had a great time and was hooked! While at that show, I saw what a real "pedigreed & registered" siamese should look like, and immediately after the show, I started my search for a show kitten.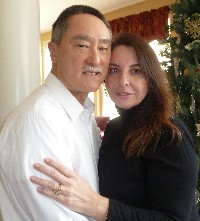 Purrsia Cattery is owned by
Steven and Susanna Shon
My cattery name came from having a Persian father, not wanting to spell the correct way in view of the association to actual Persian catteries I went with Purrsia. Many years later I noticed the Purr & Sia in the name. Years later I was given a lovely red ticked tabby oriental shorthair from my good friend and at that time fellow breeder, Stewart Robson, that definitely started my love of orientals and to date, they remain my favorite breed.
Steven also grew up with cats. As a young boy growing up in Los Angeles, his first cat was a domestic shorthair that he named Tommy and he's been an avid cat lover ever since. Steven began breeding cats with his late wife Jan Shon while in Texas in 1993 and together they had great success with showing and breeding Oriental Shorthair cats. Initially Steven wanted to raise Aby's and also had Bengals but their program quickly became focused on Siamese and Oriental Shorthair cats.
Recently we have added the Russian Peterbalds to our program; naked and oriental in type just seemed to make sense to me and the Peterbalds we currently have are really proving to be a source of joy for us.
Purrsia Cattery has always maintained very few cats, we believe in quality over quantity and strive for healthy, happy and well adjusted pets whether they are for pet, breeding or show purposes.
Kittens are born and raised in one of our guest bedrooms and are introduced to cats in the cat room when they are around 10 weeks old. For their own safety, they are caged with their moms until they are about 6 weeks old, but get plenty of human attention and supervised out of cage time during those first six weeks.
Kittens do not leave our home until they are at least 12 weeks old, and, if flying overseas, they stay with us until they are 14 - 16 weeks old. Both Steven and I are equally involved in loving, caring for, and showing our cats. We are both avid cat lovers and maintain very high standards for their comfort and care.
If you are interested in a kitten from our home, we would love to hear from you and we will always do our best to see the choice you make is one that will bring years of joy to your family.
We are located in sunny Las Vegas, Nevada, USA, and can be reached at 702/448-3941.